Setting the benchmark for the camping sector, Yelloh! Village brings together 95 camping-villages situated in some of the loveliest locations in France, Spain and Portugal.Yelloh! Village operates as a chain of franchisees run by leading professionals in the sector, and is recognised as the foremost network of high-end camping-villages. 
Featuring sea, ocean, countryside, mountains and more, the group's campsites fulfil all desires and requirements when it comes to holidays. While establishing itself as one of the world's top operators in the camping sector, Yelloh! Village places comfort, quality, facilities and entertainment at the core of its values.
Our campsites
The Yelloh! Village group is a network of dynamic campsites which caters to all your holiday yearnings. So as to meet all requirements, Yelloh! Village is looking eventually to incorporate a hundred or so upmarket campsites. It currently comprises 95 camping-villages, with 85 campsites in France, 6 in Spain and 2 in Portugal.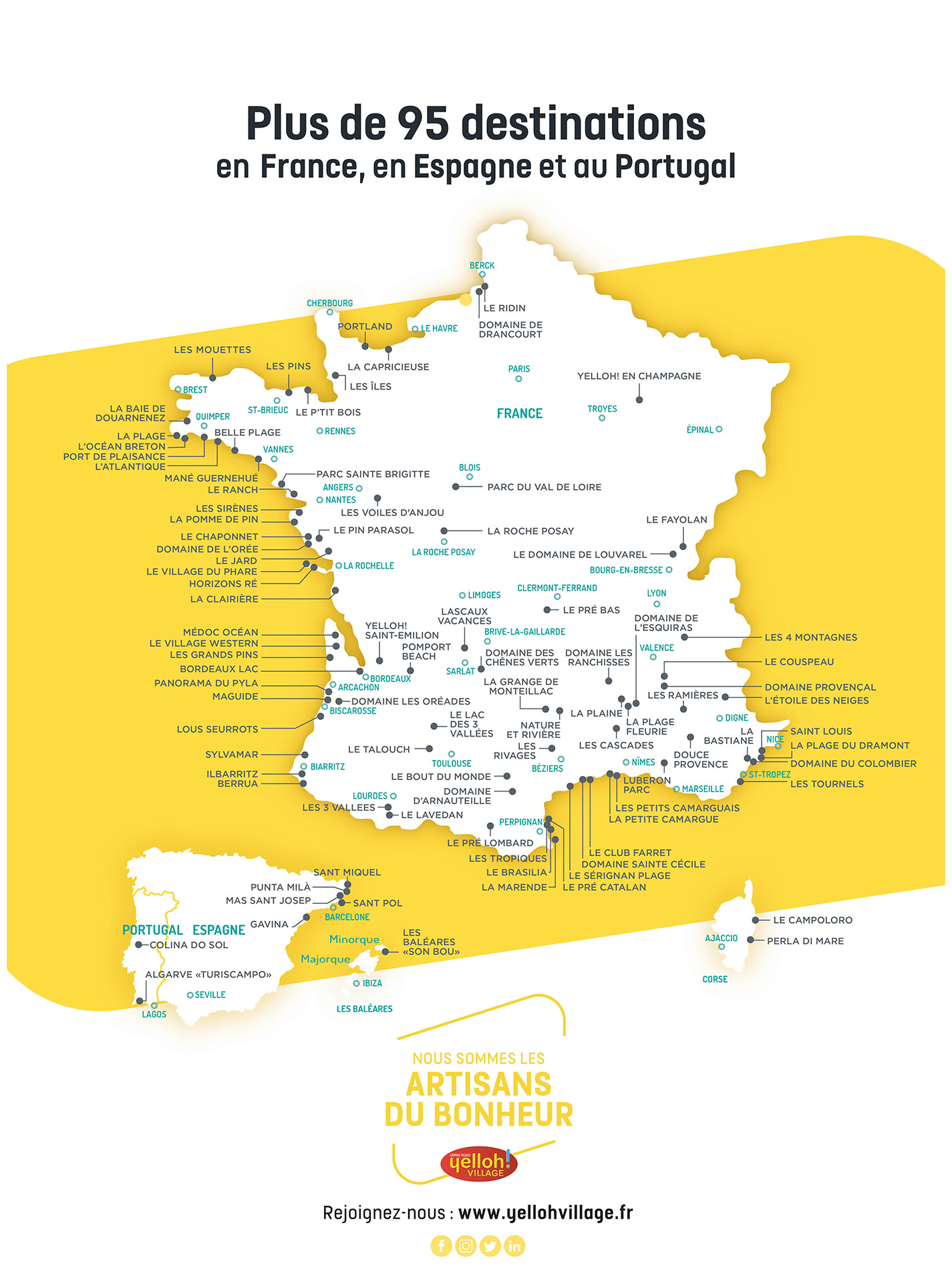 Above all, Yelloh! Village campsites mean unrivalled natural settings in the heart of some wonderful regions, with accommodation featuring all the mod cons, dreamy aquatic parks, a very wide range of entertainment options, and facilities that meet all needs and desires.
Key figures
*Figures 2021
Our business
Yelloh! Village is aiming to build and develop a Europe-wide network of campsites providing a high-capacity package, with uniform quality when it comes to location, reception and facilities.
The success of Yelloh! Village campsites stems above all from their primary purpose, which is to satisfy customers, meet their needs and provide high-value services and entertainment.
Quality and respect for customers have formed the core of the group's priorities since it was established. Now more than ever, the people who founded Yelloh! Village are looking to offer their customers luxury holidays in some unique locations by moving upmarket.
Quality at the heart of our values:
Selective recruitment policy
A quality charter which all franchisees undertake to respect, and which is inspected annually
Annual quality audits conducted by an independent body
Statistical analyses of customer feedback questionnaires
All Yelloh! Village campsites are committed to the same principles:
A personalised welcome
A protected environment
Genuine attentiveness
High-quality accommodation
Everyday facilities
Clear and precise information about life in the campsite
High-quality hosting facilities which blend into their natural environment
In addition, all campsites must retain their identity, enhancing the value of their own design features as well as the specificity of the region.
Our strategy
Yelloh! Village is implementing actions in various areas towards promoting franchisees and constantly ensuring an increase in the number of villages belonging to the chain.
Planned and targeted PR campaigns in Europe
Annual operations with mainstream media (TV adverts in France and the Netherlands)
Search engine optimisation operations (SEA and SEO)
Webspace purchased and membership campaigns
Features in Europe's top specialist guides (ADAC, ANWB, Alan Rogers etc.) as well as on specialist websites with large readerships
Proactive and loyalty emails, business emails
Relations with professional press
Strong presence on social networks (Facebook, Instagram, Twitter etc.)
Information systems
A multilingual booking centre (French, English, German, Dutch, Spanish and Italian)
A booking centre connected to all PMS
A CRM customer database of 3 million certified contacts
A website for online sales, contact and customer information in which all franchisees feature in 7 languages and with more than 12.2 million visits per year
A multimedia, real-time booking engine
An app
A collaborative pricing policy
Yelloh! Village sets prices that depend on the time of year (low, mid and high season). Prices are examined by village and by region, using statistical and economic hypotheses and a pricing system provided by LB Consulting.
Centralisation of Purchases
The chain's size means we can negotiate preferential rates with companies supplying our villages with equipment, such as mobile home supplier O'Hara, IRM, Baticoncept, Louisiane and Chalet Fabre, Antargaz, Nestlé and Le Cédre.
Communicating with franchisees
Communication between head office and franchisees is ongoing throughout the year via the group's intranet website, by telephone and by email.
Meetings take place three times a year between Yelloh! Village head office and franchisees, during which people can speak their minds, discuss and keep up to date with actions implemented by the group.